Feature Image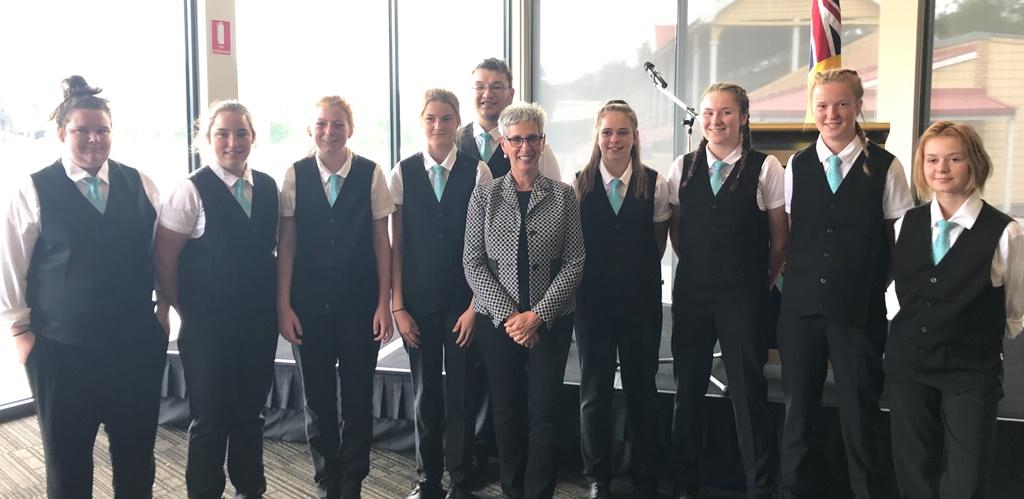 Introduction
A reception to thank locals for their contribution to the Ararat community was hosted by the Hon. Linda Dessau AC, Governor of Victoria, during a two-day visit to the region this week.
Body
As part of the reception, students and staff from Ararat College and Central Grampians LLEN (pictured) gained practical hospitality experience, donning the Government House uniform and working with Government House staff to serve afternoon tea made by the Ararat Country Women's Association.

The Governor told more than 200 people at the reception that she was Governor for the whole of Victoria.

'I therefore relish the chance to visit each corner and pocket of our State, and everywhere in between,' she said.
'I love seeing first hand all the great similarities that connect our diverse Victorian communities, and the unique things that set each local area apart.'
The Governor laid a wreath at the Ararat War Memorial, visited the Ararat West Primary School, learnt about local manufacturing at AME Systems, visited businesses in Moyston and Willaura, and facilitated an Agricultural Round Table discussion with farmers from across the region.

She also joined members of the Ararat Park Run for a walk around the Alexandra Gardens Park, planted an oak tree to mark the restoration of the Willaura Railway Station into a community centre, and visited the kitchen garden at the Royal Mail Hotel in Dunkeld.
Read the Governor's speech at the Ararat Civic Reception.