Feature Image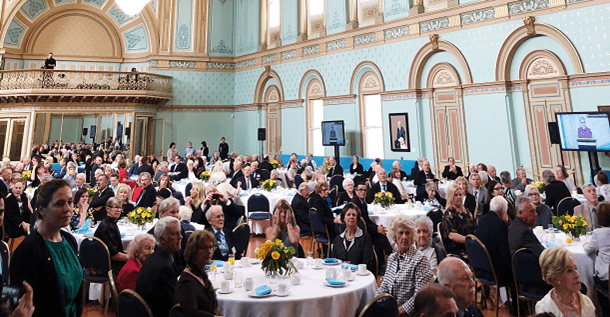 Introduction
The Governor and Mr Howard host a morning tea for Victoria's centenarians.
Body
In her speech welcoming guests to Government House, the Governor reflected on the great change these centenarians have borne witness to over the course of their lives.
"In the hundred years between your birth and today, the world has changed such an extraordinary amount. You have seen the invention of antibiotics, the meteoric rise of television and the more recent role of computers and the internet.  You have witnessed the exploration of space and the pursuit of new astronomical frontiers, and seen the world shrink as planes criss-cross the skies and mobile and smart phones and social media have made the whole world more connected," the Governor said.
This reception has been hosted by the Governor at Government House since 2015. Guests were treated to a special performance by the Australian School of Performing Arts Girls' Choir, who performed "I am Australian" (some in Kija and Jaru, indigenous languages from the Halls Creek region), "Seasons of Love" from 'Rent', and "This is Me" from 'The Greatest Showman'.