Feature Image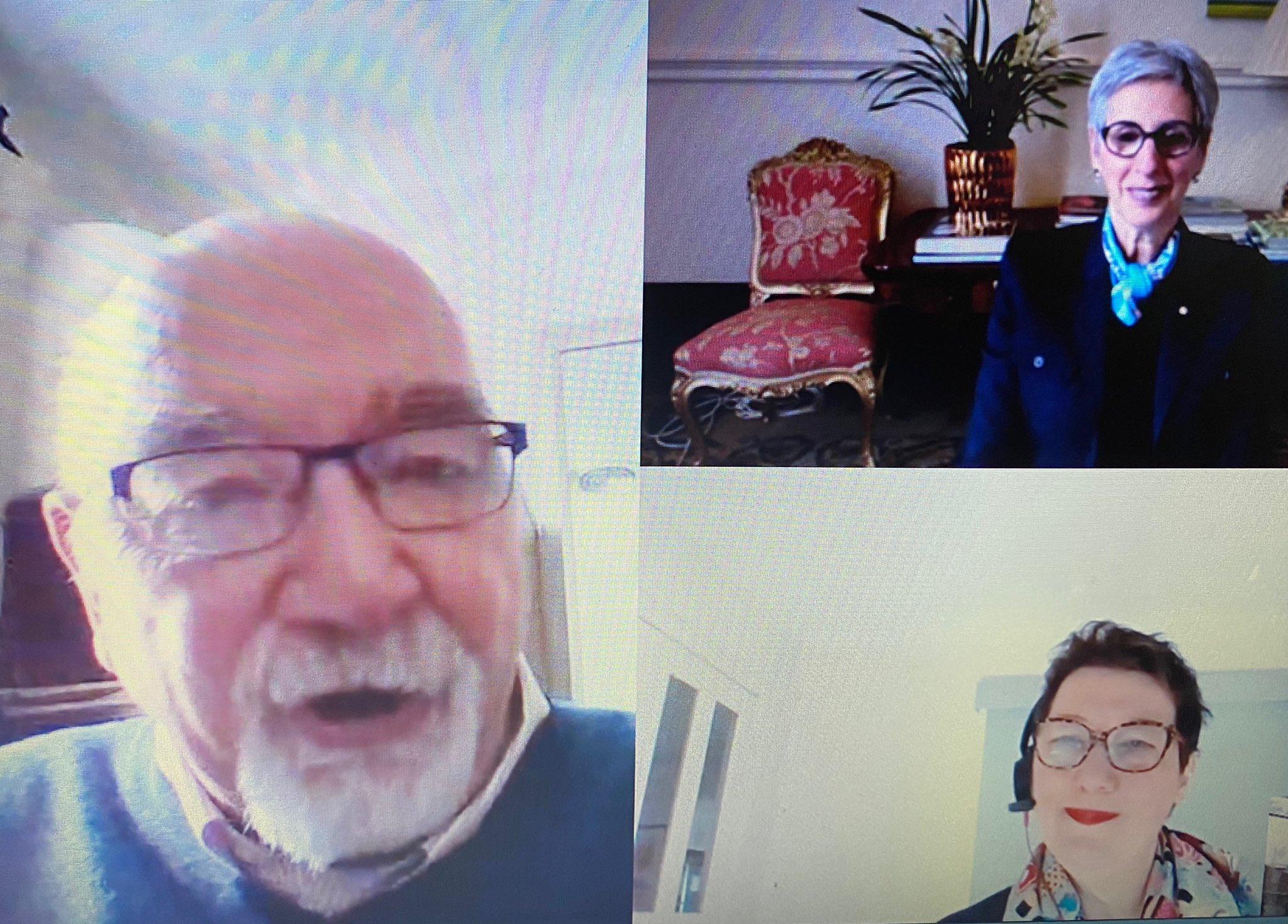 Introduction
The Governor this week paid a virtual visit to Mitchell Shire.
Body
The Governor had the chance this week to make a virtual visit to Mitchell Shire, where she spoke with Mayor, Cr David Lowe, and CEO, Ms Mary Agostino. Along with metropolitan Melbourne, Mitchell Shire has returned to Stage 3 Stay At Home restrictions. The Governor appreciated the opportunity to hear about the manner in which the Stay At Home direction has impacted the community, and the ways in which the Shire is working with local organisations to support the community during this time.
The Governor was able to share with the Mayor and CEO her recent experience of meeting some of Mitchell Shire's talented young people. Last week, accompanied by Mr Howard, the Governor spoke with VCE Legal Studies students at Assumption College Kilmore, where students had the opportunity to learn more about the modern role of the Governor, share their experiences of completing their final year of high school during COVID-19, and their hopes and aspirations for the future.
The Shire, on the northern fringe of Melbourne, boasts beautiful natural attractions, and has a rich history dating back to the gold rush.  Mitchell Shire encompasses the large centres of Kilmore and Seymour, and includes both the Mount Disappointment State Forest and part of the Kinglake National Park in the south, stretching up to the Australian Army's Puckapunyal base at its northern-most border.  Earlier this year, the Governor in her role as Representative Colonel of the Royal Victoria Regiment, accompanied by Mr Howard, visited Puckapunyal. This visit was an opportunity to meet with and thank the senior officers and troops deployed on Operation Bushire Assist.  
On that visit, the Governor and Mr Howard were also able to pay a visit to the Seymour Railway Heritage Centre, which employs a volunteer workforce that has developed wide experience in the rail industry in maintenance, engineering and specialised restoration work. With a special connection to Government House, the SRHC currently houses the decommissioned Vice-Regal train cars, which up until the late 1980s were used by Victorian Governors and members of the Royal Family when conducting regional tours. For more information on the SRHC you can visit their website here.
The Governor was very pleased to hear about exciting developments and ongoing projects within the Shire, including the ways in which the Council is partnering with the community sector to support residents and businesses. To learn more about this beautiful part of Victoria, visit the Mitchell Shire website.