Feature Image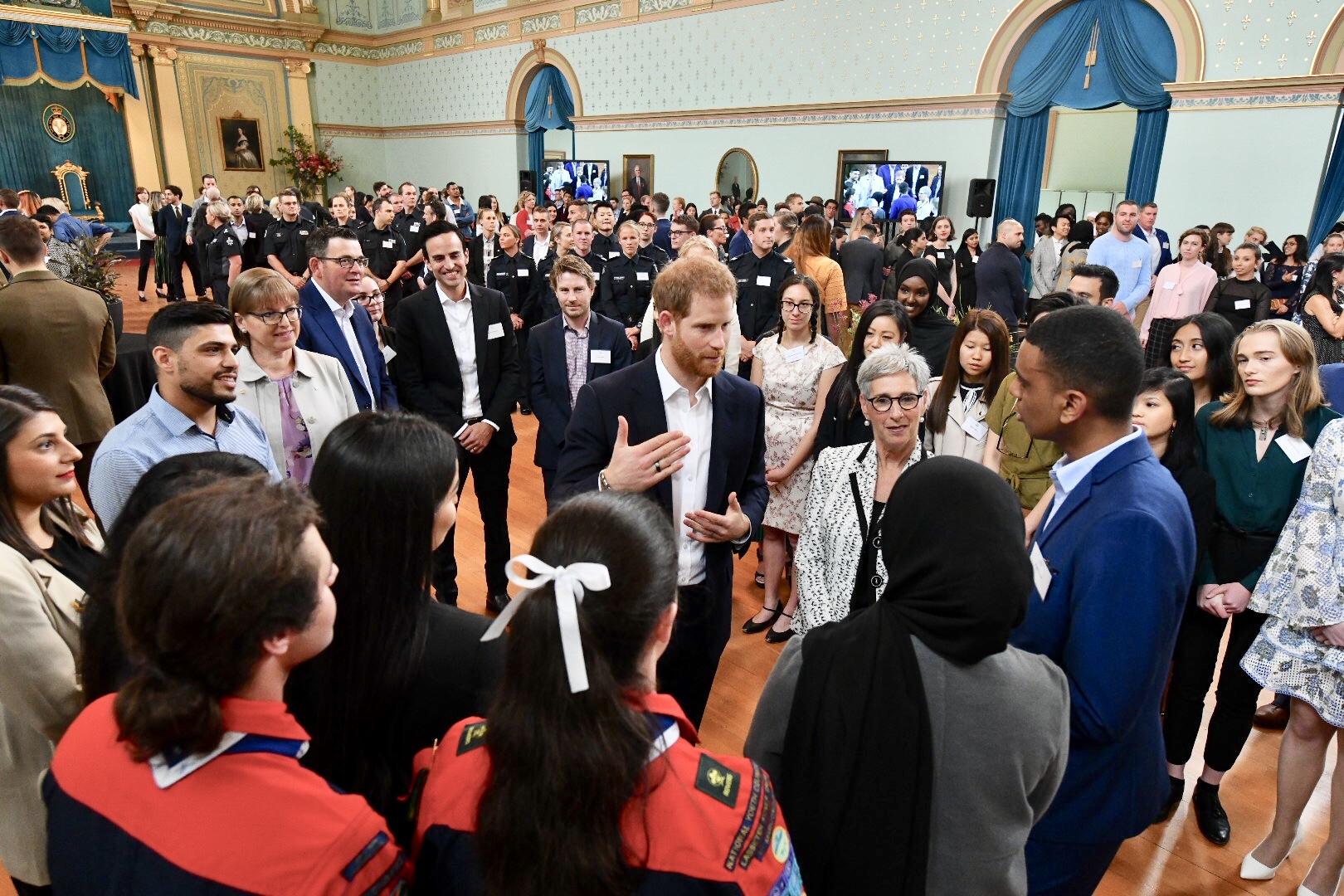 Introduction
Young Victorians who are leaders in their fields had the opportunity to meet The Duke and Duchess of Sussex at a reception at Government House Victoria today.
Body
The Hon. Linda Dessau AC, Governor of Victoria, and Mr Anthony Howard QC, hosted the reception for 350 people in the Government House Ballroom.
'We are pleased to have had the opportunity to host Their Royal Highnesses, to show them innovative programs by young Victorians, and to introduce them to our next generation of leaders,' the Governor said.
The Duke and Duchess mingled with those attending the reception, which included start-up entrepreneurs, award recipients, and leaders from various regions across the State.
On arriving at Government House, Their Royal Highnesses viewed an exhibition of VicHealth's "This Girl Can – Victoria" campaign.  More than 150 women 'got active' on the West Lawn to showcase the campaign which celebrates and supports women to embrace physical activity in a way that suits them.
At the reception, The Duke and Duchess also had the opportunity to learn about the following innovative programs developed by young Victorians:
A telepresence robot, Teleport, which can help hospitalised children attend school, people with a disability attend work and elderly people to socialise.  Marita Cheng,

aubot

Founder and CEO, who was the 2012 Young Australian of the Year, demonstrated the technology with her colleagues, via Teleport from the USA

A scaled miniature Formula 1 car, designed and made by a team of Trinity Grammar students, using Computer Aided Design technologies, will be on display. The team, which won the 2017 F1 in Schools World Championship in Malaysia, showcased the miniature F1 car on the State Dining Room table.

A vertical, edible farm designed to grow inside Melbourne cafes and restaurants, which has been developed by Melbourne-based start-up

Farmwall

. The small scale farms use aquaponics to create a closed loop natural ecosystem.

The Man Cave program, which works with schools, teachers, parents and community groups to deliver workshops, camps and keynote presentations that explore healthy masculinity, positive mental health, respectful relationships and gender equality.  Queen's Young Leader, Hunter Johnson, who is 

The Man Cave

CEO, discussed the approach taken with the programs.