Feature Image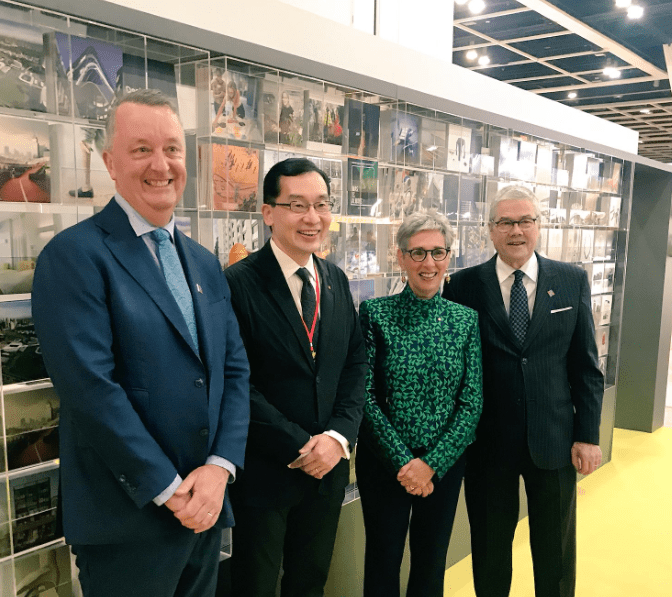 Introduction
The Governor of Victoria's speech for the launch of the Melbourne Pavilion in Hong Kong.
Body
The Honourable Martin Foley MP, Victorian Minister for Creative Industries
Ms Michaela Browning, Australian Consul General to Hong Kong
Professor Eric Yim Chi-ming JP, Chairman, Hong Kong Design Centre
The Honourable Victor Lo Chung-wing, GBM, GBS, JP, Chairman, BODW Steering Committee, Hong Kong Design Centre
Dr Edmund Lee, Executive Director, Hong Kong Design Centre
All distinguished guests
What a pleasure it is to gather here at the Melbourne Pavilion for the biggest ever international showcase of Victorian design.
I am conscious that, being here amongst the Victorian exhibitors, and delegates from Victoria's very sizeable design-led trade mission, we are privileged to be standing shoulder to shoulder with some of the world's best design talent.
And we are delighted to be joined by those with their own outstanding design credentials and interests, from many other cities and countries as well.
Some of the sharpest eyes, the deftest hands, the keenest imaginations, and the most nimble and creative intellects are around us.
And, some of the greatest contributors to their respective  economies.
As the Governor of Victoria, I can certainly vouch for the direct contribution the design industry makes to our State, as a major part of our $28.4 billion creative economy, and employing more than 135,000 Victorians.
But I am sure that no-one here needs persuading that the design industry makes a much broader contribution as well.
I am not sure how you measure the impact on a city of the beauty of a curvaceous building in which doctors help to cure cancer, or an artfully designed tram stop that looks handsome as it provides easy access to its passengers.
Or how you measure the contribution to humankind in the design of a bionic eye, an attractive hearing aid that shifts an association with infirmity and ageing from disability to desirability, or a small but powerful camera that democratises the film and television industries.
And I know that I will never unravel the wonderful mystery of precisely how an elegantly designed light fitting, or nature based green infrastructure or an exquisite piece of jewellery can manage to nourish our souls.
Those are just random examples of the breadth of the 100 plus projects on show in this pavilion which - by the way - is in itself cleverly designed to create a vibrant but intimate space inside this vast exhibition building, by Melbourne based DesignOffice, and its principals, Damien Mulvihill and Mark Simpson, (coincidentally, just named last week as Australian designers of 2018).
Inside the Pavilion, you will see a mix of object, digital and interactive displays. You will see projects across a set of six interrelated 'terrains' covering invention, making, well-being, identity, play and learning.
I know that you have seen a dinosaur wandering around. No need to be afraid! As ferocious as he looks, I promise that he is in fact friendly, and just an example of the brilliant animatronics from Melbourne based Creature Technology Company.
Most of you gathered here, I am sure, are well aware that Melbourne has been ranked by The Economist Intelligence Unit as one of the world's top three most liveable cities since the ranking started, and for seven consecutive years in the top place.
There are many factors that play into our liveability and the teasing out of all those factors is perhaps a discussion for another time. Certainly though, our liveability is underpinned by a culture of creativity and design.
And, in turn, that culture is fed by a number of factors.
First, the Victorian Government is a strong advocate for our creative industries, and indeed, has been an active supporter of Melbourne's participation in BODW.
Certainly, our National Gallery of Victoria is a central institution at the heart of our love of design. The 17th most visited gallery in the world – an extraordinary feat when you consider our location and our population - it emphasises design as part of its collection, its exhibitions and its future, with Australia's first gallery department of Contemporary Design and Architecture.
I want to thank and congratulate the NGV's Senior Curator of Contemporary Design and Architecture, Ewan McEoin and his co-curator, Phip Murray, for their superb curation of the works on display in this Pavilion.
To my mind, one of the strengths in Melbourne's presence here in Hong Kong is that all of Victoria's five key design schools are participating and collaborating as part of the team representing our city.
The emphasis on the study of design in Melbourne is important. Victoria produces more university-trained designers than any other State in Australia, including the largest share of international design students.
The theme for Melbourne's partnership with Hong Kong Business of Design Week is 'Think Collaborate Create'.
What our Melbourne Pavilion showcases is that by THINKING about our shared values, and COLLABORATING, we can CREATE a better future. Enjoy the interesting ways that our Pavilion will take you on that journey.
But first, it is my pleasure to now officially launch the Melbourne Pavilion.