Feature Image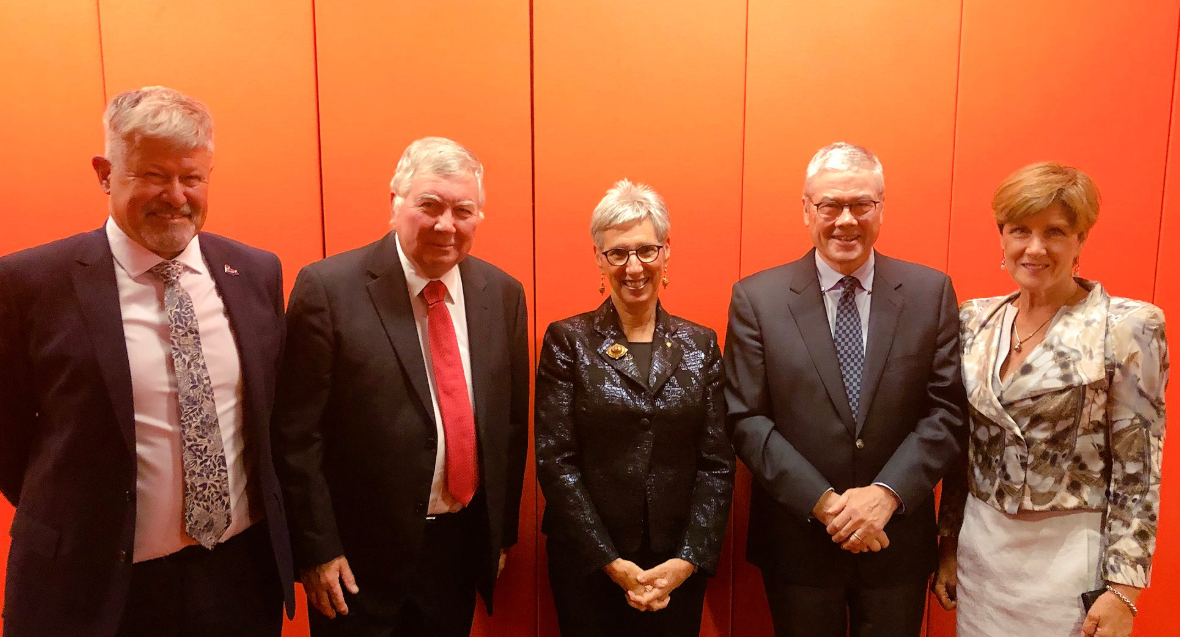 Introduction
The Governor of Victoria's speech for the Melbourne High School Speech Night.
Body
Mr Phil Harbutt, President, School Council and other Council members
Mr Jeremy Ludowyke, Principal
Special Guests
Members of Staff
School captains and students
First, I acknowledge the Traditional Owners of the land upon which we are gathering and pay my respects to their Elders past and present and to any Elders here with us this evening.
Let me start with some observations about the Gold Rush.
But please don't be alarmed. They are very brief observations.
It is not my intention, in the short time that we have, to deliver a didactic historical lecture. You certainly don't need to be concerned that I propose to start with events in 1851, and to work through each of the 167 years to the present day.
But gold offers one of the ways to trace the (modern) history of our State. It is the foundation stone of this period of our history. Literally. It ran in great veins beneath the dirt and rock of our countryside.
In the second half of the 19th century, a total of nearly 1.9 million kilos of gold was found in Victoria.
And it remains relevant to you today.
Gold funded a considerable number of our great public buildings – from Parliament to the State Library, from the cloisters of the University of Melbourne to my own residence, Government House.
It brought migrants from across the world. The population of Victoria swelled, from 25,000 in 1851 to 600,000 in 1861 – more than a 2,000% increase in a decade.
It brought infrastructure, with a network of roads and train lines, linking the major goldfields to Melbourne. 
It attracted business and culture, as those on the goldfields needed food, clothes, tools and entertainment.
And it fuelled great technological advancement – attracting scientists, geologists and engineers from around the world. New techniques were developed, for example to crush quartz, or to use water to sluice away soft rock to reveal gold.
The gold rush also disrupted some of the class structures and hierarchies in early Australia. Working class men – or occasionally, women – could find gold, and rise up in society's ranks. The gold rush 'playing field' was, in this way,  completely even.
So, how is this relevant to you young men, the Class of 2018, as you go out into the world? Why have I referenced the gold rush of more than a century and a half ago?
It is because, although there may not be another 1.9 million kilos of gold secreted in Victoria's soil, there are new riches that await you.
Victoria has different natural resources: a different 'gold' that brings people to our shores today.
Amongst our most precious resources – alongside the blessing of a long and stable democracy – are our diversity and our ingenuity.
Diversity is truly one of our strengths. We have built on the multicultural heritage created through the gold rush. Victorians now come from more than 200 countries and speak more than 260 languages. Almost half of us were born overseas or have at least one parent born overseas.
Once again, Melbourne is our nation's fastest growing city – set to overtake Sydney by the 2030's.  
We have built on the legacy of the gold rush, with a city ringed by magnificent parklands. We have sport and culture in abundance. Our NGV is the 16th most visited art gallery in the world. We are designated as a UNESCO City of Literature. And we are renowned for staging  major sporting events such as the Australian Open, Formula One Grand Prix and the Spring Racing Carnival.
And we are a 'knowledge city', with world class universities that bring researchers and students to join us. Melbourne is one of only three cities in the world to have two universities in the global top 20 biomedical rankings.
Victoria is a deeply innovative and entrepreneurial State. It is in our DNA.
Melbourne is the crucible for global companies like seek.com, carsales.com and realestate.com. And with around 2,700 start-ups – 1,100 in tech – this city has about twice the average of other ecosystems at a similar development stage.
One in four entrepreneurs in Melbourne have moved here from another country, specifically to launch a start-up. That's a very good sign!
Today, much 'gold' is to be found in all those strengths.
But, just like in gold rush times, our new resources and riches bring consequences that we never intended.
Then – when people flocked to the goldfields – the displacement of Aboriginal communities was compounded. Sanitation was poor and disease was rife. Families were split as men left them behind, fuelled by the hunger for riches.
Today – when technology and social media has brought so many benefits to business, to social connectivity and to globalisation – we see disruptions to real life relationships, increased social isolation, an epidemic of poor mental health, and an unhealthy dependency on screen time.
And as technology and robots evolve, more and more questions arise as to the role and power of artificial intelligence. Should we put limitations on technological growth?  How can it be harnessed for good and not evil?
These are amongst the very significant questions for your generation arising from the rich resources developed by those who have gone before you.
So, what are, I wonder, the rich seams of gold for you to mine in the future?
Certainly, the opportunity to dig deep into the burgeoning science and philosophy surrounding that artificial intelligence – ensuring that these new frontiers of technology work for us and serve our needs.
How might we strike the balance between the profits that arise from automated thinking, and the complexity of discretion and compassion for which the human mind is designed.
As the next generation of leaders – as captains of industry, in academia or in service to the public – you will also be faced with the challenges of our climate. As yet, our world has not found the ability to find unity. Perhaps this issue will be confronted and hopefully conquered by you.
Easy access to affordable and nutritious food is a global challenge.  The fragility of our food security is another area rich for resolution in your lives and careers.
Innovation – in every form – will feature in your future.
Victoria punches above its weight when it comes to innovative thinking and finding creative solutions to global challenges. We have thriving – even booming – sectors in agricultural technology, urban design, mining equipment and technology, defence, cybertech, fintech and life sciences.
As you are about to leave school, the question most often asked of you is 'What do you want to do?' or 'What do you want to be, or to study?' Or a variant on that theme.
I think the real gold for you will be found not necessarily in the course that you study, the career that you choose or the job that you hold. It will be different from that.
It will be in your personal skill-set. The 'tool-box' that you carry with you as you change jobs up to 17 times in your life-time, as we are told is most likely.
It will be in your understanding of the need for continual  learning. Your continuing desire to question. Your capacity to move and bend with the times.
Change is a constant. Agility will serve you well. As will an endless source of curiosity.
You will need to straddle disciplines. To understand, like the great polymaths through history, the beautiful intersection between the arts and science. How one better informs the other. That if you well understand sculpture and public art, you might be able to engineer a better bridge.
You will need to be able to collaborate. There are very few pursuits in which you will be able to succeed absolutely alone, or in which you will succeed as well or as fast.
Look at the world's best science and innovation. See how many Nobel Laureates succeed with a colleague, or by building on the work of others. See how industry often solves its problems better or fast when it collaborates with academia.
You will need to embrace diversity in every sense. To enjoy the richness of different views, be it from someone of a different discipline, age, gender or background. Your decisions will be the stronger for different perspectives.
And, act with kindness. And integrity. Promote unity. And fairness.
So, graduating class of 2018, I encourage you to go for gold. But first, you've got to recognise what your gold is. Know it will change. Know you will evolve. And know that so much adventure lies ahead for you. Congratulations and enjoy it.  
The Governor of Victoria's speech for the Melbourne High School Speech Night.