Feature Image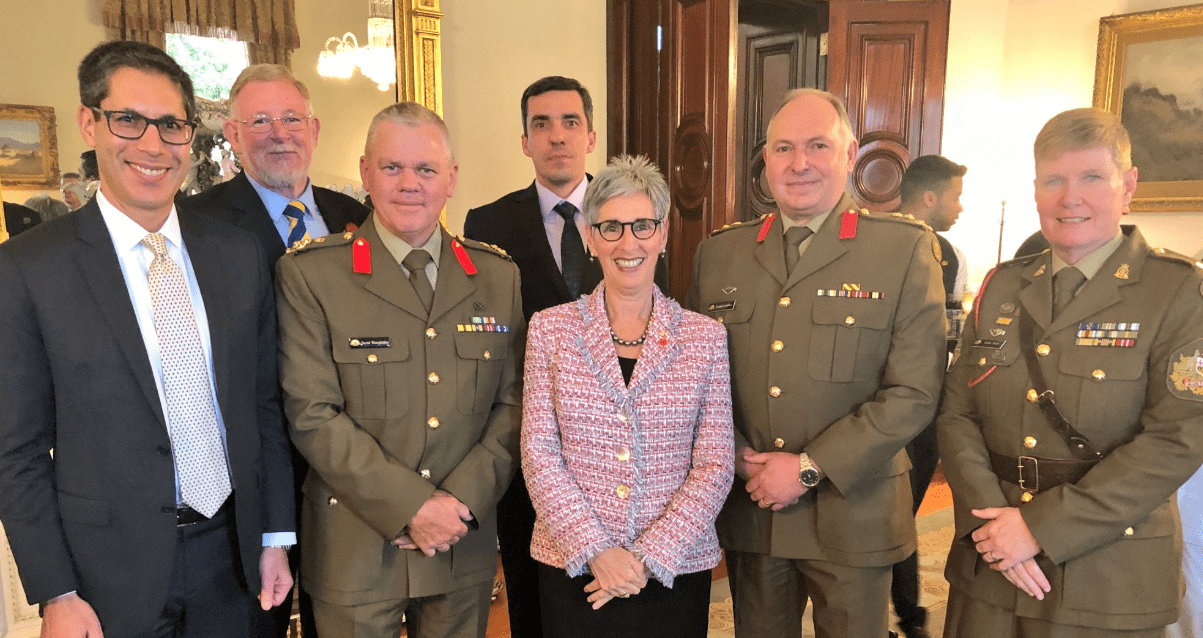 Introduction
The Governor of Victoria's speech for the RSL Remembrance Day Reception for the 100th Anniversary of Armistice Day.
Body
The Hon. John Eren MP, Minister for Veterans
The Hon. Mr Matthew Guy MP, Leader of the Opposition
Mr Frank McGuire MP, Parliamentary Secretary for Medical Research, Small Business and Innovation
Major General David Coghlan AM, Senior Army Officer
Commodore Greg Yorke CSC RANR, Senior Naval Officer
Group Captain Michael Que Hee, Representing Air Commodore Glen Braz
Consuls-General
Dr Robert Webster OAM, State President, Victorian RSL
Brigadier Michael Annett CSC, Chief Executive Officer, Victorian RSL
Air Vice Marshal Chris Spence AO (Ret'd), Chairman, Shrine of Remembrance Trustees
Mr Dean Lee, Chief Executive Officer, Shrine of Remembrance Trustees
Former and current servicemen and women
All distinguished guests
First, I acknowledge the Traditional Owners of the land upon which we are gathering and pay my respects to their Elders past and present and to any Elders here with us this evening.
Tony and I are delighted to welcome you to Government House, to recognise the centenary of Armistice Day.
This is a reception usually held at ANZAC House, but we thought that, this year, it was appropriate that we hold it here.
First, it provides an opportunity for us to repay some RSL hospitality.
But secondly, it is only fitting.
This House lay at the centre of the historic notice to the Governor-General of Australia that the war was ending, and of his dissemination of that momentous news.
Australia's 6th Governor-General, His Excellency Sir Ronald Munro Ferguson, of course lived here at the time.
Where was he in this House, I wonder, when he received the cable that read: 'Governor General Melbourne. Most urgent armistice signed 5 AM this morning'?
Most likely not in this grand State Room. More likely in his Study? In my study? An interesting thought as to how each one of us, as the residents of Government House, are merely the temporary custodians, and that it is the House, rather than any individual, that truly bears witness to the full parade of history.
Anyway, we know that Governor-General Munro Ferguson also received a message from His Majesty the King. It was printed in the newspapers on 13 November 1918.
His Majesty's message referred to:
'…. the hostilities which have convulsed the whole world for more than four years,….'
And he expressed his gratitude for the wonderful efforts and sacrifice that had contributed to victory.
That same day, the Governor-General sent a message to Parliament, in which he spoke of the 'share of heat and burden' borne by Australian troops.
Australia's 'share of heat and burden' was indeed immense.
It was a war that had seen the loss of life of some 62,000 Australians - nearly one third of them Victorians.
And although the nation did rejoice as the guns fell silent, and there was much pride and gratitude for all that had been achieved, nothing could mask the heartache of loss.
And it is that loss, and the sacrifice of our soldiers, that we have since remembered – as we shall on Sunday – at the time the guns fell silent, at the 11th hour of the 11th day of the 11th month of 1918.
Precisely one hundred years since the Armistice, we continue to remember. And we thank the RSL for all that it does to help stir our collective memory of the sacrifices made in war. 
We thank them too for honouring and supporting our veterans, with skill and generosity, adapting and tailoring their services to meet the contemporary needs of its members.
And of course we thank Victorians and Australians currently serving. We wish them well, and a safe return from postings overseas.
It is now my pleasure to invite Dr Robert Webster OAM, State President of the Victorian RSL, to address us.
The Governor of Victoria's speech for the RSL Remembrance Day Reception for the 100th Anniversary of Armistice Day.